Welcome to Eco Clean Ellie's LLC in Lecompton, KS.
ECO Clean Ellie's is a woman-owned, professional cleaning and organization company. We specialize in decluttering, deep cleaning and getting people where they need to be.
At ECO Ellie's, we understand that mental health, personal living space, and home cleanliness are interconnected. With the past two years being particularly challenging, many families are struggling to keep their homes clean and organized. We want to help alleviate those negative feelings by providing a cleaning service that not only makes your home spotless but also creates a peaceful and organized environment.
Our experienced and skilled cleaners use eco-friendly products to ensure that your Lecompton home is safe for you and your family. We take pride in our attention to detail and our commitment to customer satisfaction. With our help, you can rest assured that your home will be a clean and inviting space where you can relax and unwind after a long day.
As recovery from the pandemic is on the rise, we want to be a part of that process by helping you create a comfortable and stress-free environment in your Lecompton, KS home. Let ECO Ellie's be your go-to cleaning service and experience the peace of mind that comes with a clean and organized home. Contact us today and let us transform your living space into a comfort zone.
We offer many cleaning packages to suit every budget! Everyone deserves a clean space and we are here to help!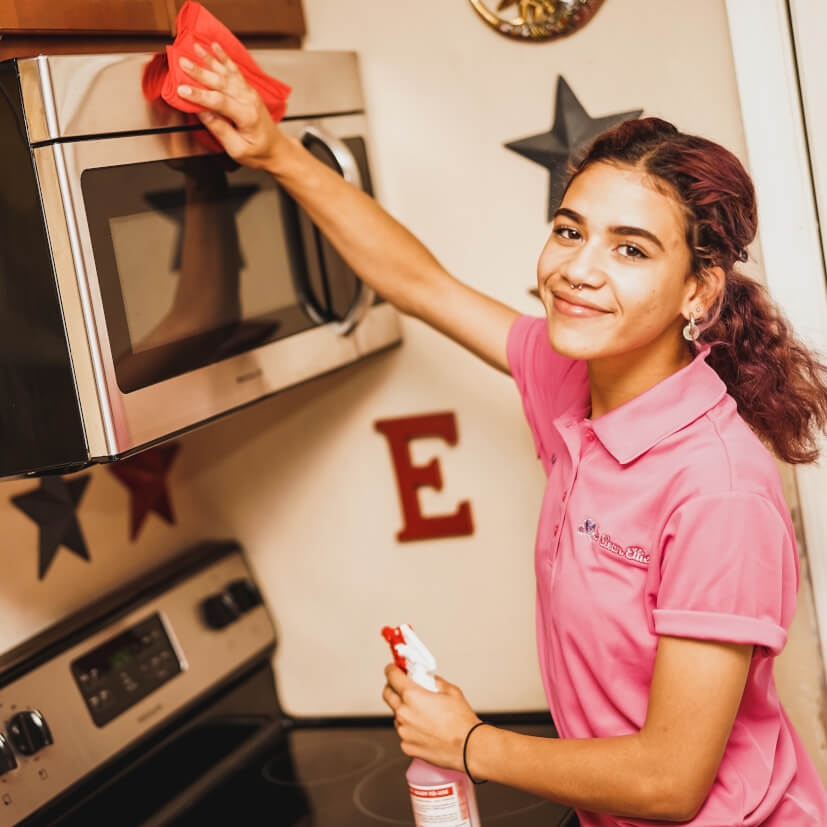 Top-Rated Cleaning Services in Lecompton, KS.
Eco Clean Ellie's is a proud partner of Cleaning for a Reason.
A little backstory about
Lecompton, KS.
Lecompton is a small city in Douglas County, Kansas, located about 10 miles north of Lawrence. The town was founded in 1854 and quickly became an important center of political and social activity in the region.
In 1857, Lecompton was designated as the capital of the Kansas Territory, which was then in the midst of a bitter struggle over whether it would be admitted to the Union as a slave state or a free state. This constitution, known as the Lecompton Constitution, was fiercely opposed by abolitionists and free-state supporters, who viewed it as a blatant attempt to subvert the democratic process.
Today, the town is home to several historic sites and museums, including the Territorial Capital Museum, which is housed in the restored capitol building and features exhibits on the history of the Kansas Territory and the fight over slavery. Lecompton is also a popular spot for outdoor recreation, with several parks and trails in the area.
Professional House Cleaners and Organizing Services Proudly Serving Lecompton, KS and the following zip code: 66050.

Things to do and know.
Territorial Capital Museum: The Territorial Capital Museum is housed in the restored capitol building and features exhibits on the history of the Kansas Territory and the fight over slavery. The museum is a must-visit for anyone interested in the history of the region.

Constitution Hall: Constitution Hall is a historic building that played a key role in the debate over the Lecompton Constitution. The building has been restored and now serves as a community center and event space.

Croco Hall: Croco Hall is a historic community center that was built in 1894. It's a popular spot for weddings, dances, and other events, and it's a great example of the beautiful architecture that can be found in Lecompton.

Lecompton Rocks: Lecompton Rocks is a unique geological formation located just outside of town. The rocks are a popular spot for hiking and exploring, and they offer stunning views of the surrounding countryside.

Perry State Park: Perry State Park is located just a short drive from Lecompton and offers a variety of outdoor recreation opportunities, including camping, fishing, boating, and hiking. The park is a great place to spend a day or a weekend, and it's a popular spot for families and outdoor enthusiasts.
Clean Space = Healthy Mind
Contact us today.
For immediate service,
please call us (913) 832-5951
Our office is open
Monday – Friday, 8:00am – 6:00pm
Proudly serving Baldwin City and nearby communities in Northeast Kansas: