Welcome to Eco Clean Ellie's LLC in Linwood, KS.
ECO Clean Ellie's is a woman-owned, professional cleaning and organization company. We specialize in decluttering, deep cleaning and getting people where they need to be.
In Linwood, Kansas, I understand that mental health, personal living space, and home cleanliness are interconnected. With the past two years being traumatic for many families, individuals may be feeling ashamed or guilty for not being able to keep up with household chores. Our aim at ECO Ellie's is to ease those negative emotions by providing a clean and organized living space that brings our customers peace of mind. As we see recovery from the pandemic on the horizon and spirits lifting, we're here to assist in the recovery process. Our goal is to make your home a haven, and we take pride in creating a comfortable and welcoming atmosphere.
So if you're feeling overwhelmed with keeping your home clean and organized, let ECO Ellie's take the burden off your shoulders. Our professional and eco-friendly cleaning services in Linwood, Kansas will transform your home into a peaceful and relaxing oasis. Contact us today to schedule a cleaning and experience the benefits of a tidy and organized living space.
We offer many cleaning packages to suit every budget! Everyone deserves a clean space and we are here to help!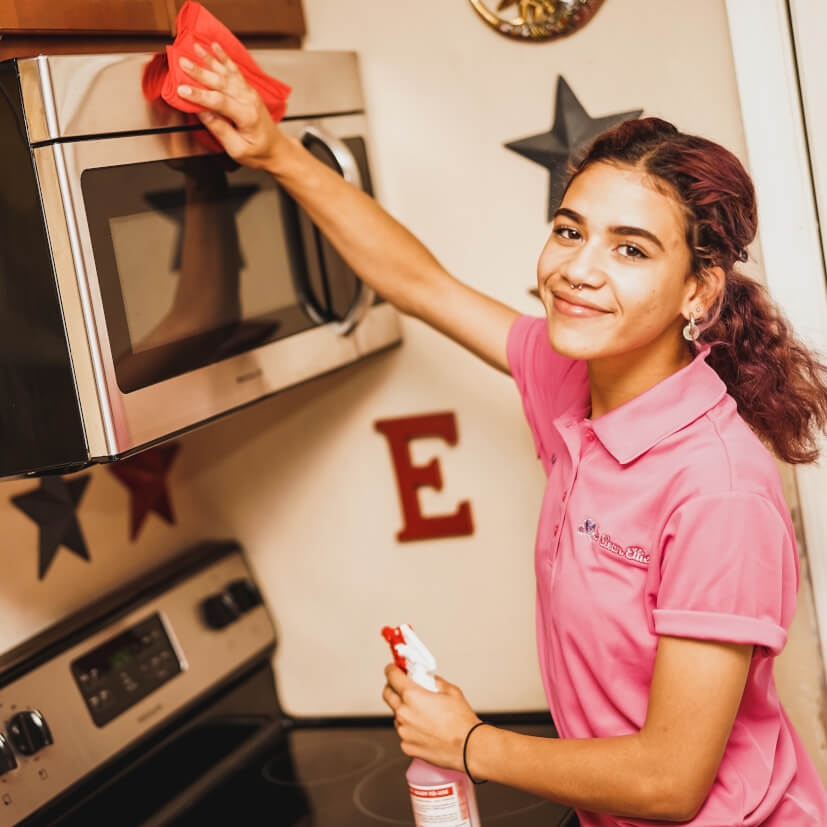 Top-Rated Cleaning Services in Linwood, KS.
Eco Clean Ellie's is a proud partner of Cleaning for a Reason.
A little backstory about
Linwood, KS.
Linwood is a small city located in Leavenworth County, Kansas, United States. The city was founded in 1869 and named after Linwood Cemetery, which was located near the town site. The cemetery was named after a wealthy businessman, Linwood H. Cutler, who had donated land for the cemetery.
In the early days, Linwood was a thriving community with several businesses, including a bank, a hotel, and several stores. The town was also an important center for agriculture and had several grain elevators and mills. In 1913, the town was devastated by a large tornado that destroyed much of the downtown area. Despite this setback, the town managed to recover and continued to grow throughout the 20th century.
Today, Linwood is a quiet community with a population of around 400 people. The town is still surrounded by farmland and is home to many small businesses and a local school district.
Professional House Cleaners and Organizing Services Proudly Serving Linwood, KS and the following zip code: 66052.

Things to do and know.
Linwood is home to the annual Linwood Pickle Festival, a celebration of the town's agricultural heritage and love of pickles. The festival includes a parade, carnival rides, live music, and of course, plenty of pickles to try!

The Linwood Library, housed in a historic building, is said to be haunted by the ghost of a former librarian. Visitors can stop by to browse the collection and maybe catch a glimpse of the ghostly apparition!

Linwood is located near the Flint Hills, a beautiful natural area with rolling hills and prairies. Visitors can go hiking, fishing, or wildlife watching in the area.

The nearby town of Tonganoxie is home to the National Agricultural Center and Hall of Fame, which honors the contributions of farmers and ranchers to American society. Visitors can tour the museum and learn about the history of agriculture in the United States.

The Linwood area is known for its scenic drives, with picturesque countryside views and historic landmarks along the way. Visitors can take a leisurely drive through the area to explore the charming small towns and scenic vistas.
If you're planning a visit to Linwood, some places you may want to check out include the Linwood Library, the Flint Hills, the Tonganoxie National Agricultural Center and Hall of Fame, and some of the scenic drives in the area. Additionally, be sure to visit during the Linwood Pickle Festival if you can, for a fun and unique experience!
Clean Space = Healthy Mind
Contact us today.
For immediate service,
please call us (913) 832-5951
Our office is open
Monday – Friday, 8:00am – 6:00pm
Proudly serving Baldwin City and nearby communities in Northeast Kansas: