Welcome to Eco Clean Ellie's LLC in McLouth, KS.
ECO Clean Ellie's is a woman-owned, professional cleaning and organization company. We specialize in decluttering, deep cleaning and getting people where they need to be.
I understand that mental well-being, tidy living quarters, and cleanliness at home are interrelated. With the past two years being challenging for numerous households, individuals in McLouth, Kansas may be experiencing emotions of shame or regret because they haven't been able to maintain their living spaces. At ECO Ellie's, our aim is to alleviate these negative emotions by creating a neat and orderly environment that provides our clients with peace of mind. As the recovery from the pandemic progresses and spirits rise, we are here to aid in the recovery process. Our primary focus is to transform your home into a place of comfort and tranquility.
With ECO Ellie's services, you can finally say goodbye to the stress and worry of maintaining a clean home. Our team in McLouth, Kansas will take care of everything, leaving you with a pristine living space and a clear mind. Plus, our eco-friendly approach ensures that you're not only getting a spotless home but also doing your part for the environment. Don't wait any longer, contact ECO Ellie's today and experience the comfort of a sparkling clean home.
We offer many cleaning packages to suit every budget! Everyone deserves a clean space and we are here to help!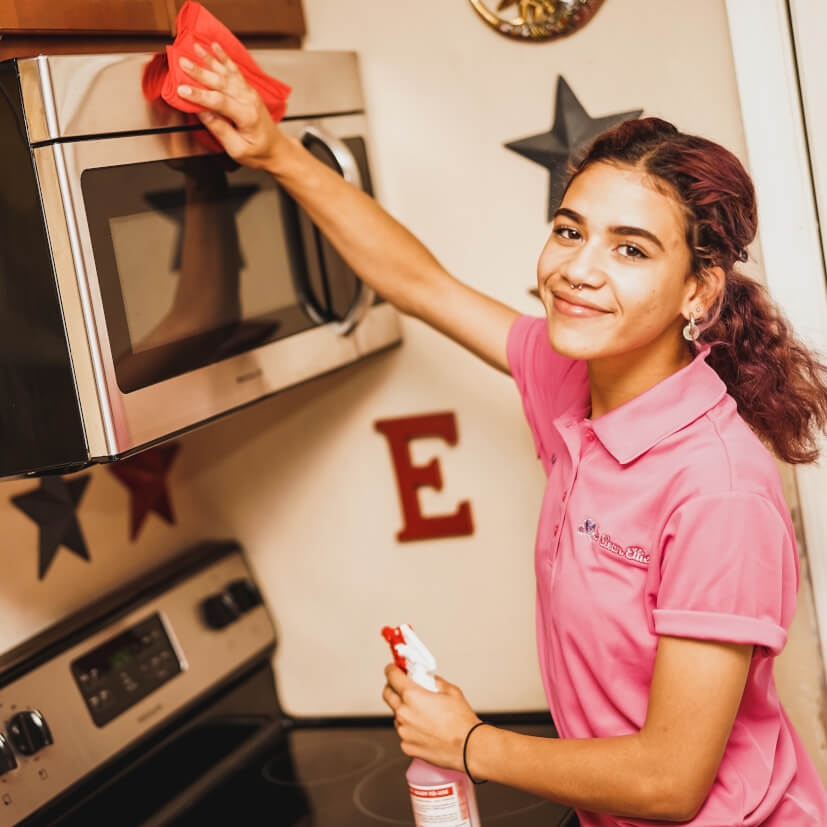 Top-Rated Cleaning Services in McLouth, KS.
Eco Clean Ellie's is a proud partner of Cleaning for a Reason.
A little backstory about
McLouth, KS.
McLouth, in northeastern Kansas, was established in 1884 and named after George McLouth, a local landowner. Once an agricultural town reliant on farming and the railroad, the discovery of coal in the early 1900s transformed the area into a booming coal mining industry, employing hundreds of people. As the industry declined over time, the town returned to its agricultural roots and is now a community of about 800 people, featuring small businesses like a grocery store, bank, hardware store, and school district. However, McLouth has seen recent growth with new housing developments and businesses. The town celebrates its heritage through the annual McLouth Threshing Bee festival, showcasing antique tractors, farming practices, and live music.
Professional House Cleaners and Organizing Services Proudly Serving McLouth, KS and the following zip code: 66054.

Things to do and know.
McLouth is home to the annual McLouth Threshing Bee, which takes place in August and celebrates the town's agricultural heritage. Visitors can enjoy antique tractor displays, threshing demonstrations, live music, and more.

The town is located near the Delaware River, which offers opportunities for fishing and other water activities.

McLouth is home to the LHS Railroad Park, a small park that features a miniature train ride and a restored caboose.

The nearby Perry State Park offers hiking trails, camping, and water activities such as boating and fishing.

The town is home to several historic buildings, including the McLouth Depot, which was built in 1887 and now serves as a museum.
If you're planning a visit to McLouth, some places you may want to check out include the McLouth Threshing Bee, the LHS Railroad Park, the Perry State Park, and some of the town's historic buildings. Additionally, visitors can enjoy the natural beauty of the Delaware River and surrounding countryside.
Clean Space = Healthy Mind
Contact us today.
For immediate service,
please call us (913) 832-5951
Our office is open
Monday – Friday, 8:00am – 6:00pm
Proudly serving Baldwin City and nearby communities in Northeast Kansas: