Welcome to Eco Clean Ellie's LLC in Oskaloosa, KS.
ECO Clean Ellie's is a woman-owned, professional cleaning and organization company. We specialize in decluttering, deep cleaning and getting people where they need to be.
We understand that mental wellbeing, the condition of one's living space, and the cleanliness of their home are interconnected. The past couple of years have been distressing for numerous families, resulting in emotions of embarrassment or remorse as they struggle to maintain their household chores. Our aim is to relieve these negative feelings by providing a tidy and well-organized environment that brings our customers peace of mind. As the world recovers from the pandemic, people's spirits are lifting, and ECO Ellie's is here to support the recovery process. We take pleasure in transforming your home into a cozy and welcoming haven.
We understand the importance of a clean and well-organized home, and we are committed to delivering exceptional service to every one of our clients. Our eco-friendly cleaning products are safe for your family and pets, while our expert organization skills will help you reclaim your living space and reduce stress. Whether you need a one-time deep clean or regular maintenance, our team is here to make your home a comfortable and welcoming haven. Choose ECO Ellie's for a clean, organized, and stress-free home.
We offer many cleaning packages to suit every budget! Everyone deserves a clean space and we are here to help!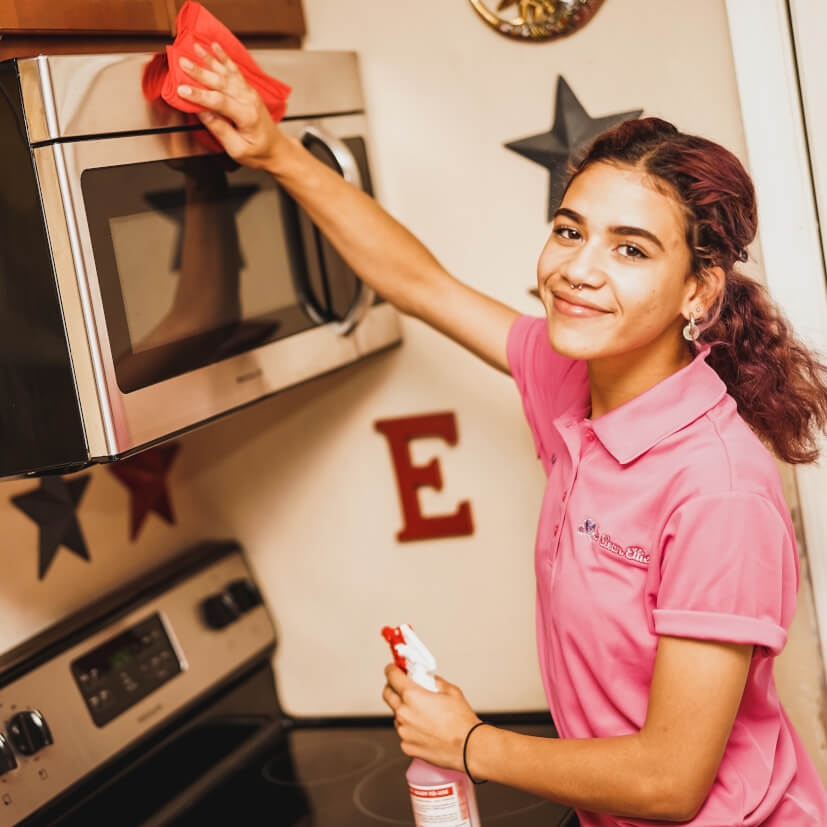 Top-Rated Cleaning Services in Oskaloosa, KS.
Eco Clean Ellie's is a proud partner of Cleaning for a Reason.
A little backstory about
Oskaloosa, KS.
Oskaloosa, a city in northeastern Kansas, was founded in 1856 and named after Oskaloosa, Iowa. It once served as the county seat of Jefferson County and experienced significant growth in the late 1800s with the arrival of the Kansas Pacific Railroad, becoming a hub for agriculture, manufacturing, and transportation. However, Oskaloosa's economy declined over time, and today, the small city has a population of around 1,100 people, with a few small businesses, a local school district, and several historic buildings and landmarks, including the Jefferson County Courthouse, listed on the National Register of Historic Places. The town also celebrates its annual Oskaloosa Old Settlers Days, featuring a parade, live music, and other festivities.
Professional House Cleaners and Organizing Services Proudly Serving Oskaloosa, KS and the following zip code: 66066.

Things to do and know.
Oskaloosa is home to the Jefferson County Courthouse, a beautiful historic building that was completed in 1872 and is listed on the National Register of Historic Places.

The town is known for its annual Oskaloosa Old Settlers Days celebration, which takes place each August and features a parade, live music, food vendors, and more.

Visitors to Oskaloosa can enjoy the natural beauty of Perry Lake, which is located just a few miles outside of town. The lake offers opportunities for boating, fishing, camping, and hiking.

The Oskaloosa Public Library is a great place to stop and explore, with a collection of books, movies, and other materials, as well as regular programs and events for all ages.

The town is home to several small businesses, including the Antique Emporium, a shop that features vintage and antique goods, and the Rustic Rose, a boutique that specializes in home decor and gifts.
If you're planning a visit to Oskaloosa, some places you may want to check out include the Jefferson County Courthouse, the Oskaloosa Old Settlers Days celebration, Perry Lake, the Oskaloosa Public Library, and some of the town's small businesses. Additionally, visitors can enjoy the natural beauty of the surrounding area, with opportunities for outdoor recreation and scenic drives.
Clean Space = Healthy Mind
Contact us today.
For immediate service,
please call us (913) 832-5951
Our office is open
Monday – Friday, 8:00am – 6:00pm
Proudly serving Baldwin City and nearby communities in Northeast Kansas: