Welcome to Eco Clean Ellie's LLC in Ottawa, KS.
ECO Clean Ellie's is a woman-owned, professional cleaning and organization company. We specialize in decluttering, deep cleaning and getting people where they need to be.
In Ottawa, Kansas, we understand the interconnectedness of mental health, personal living space, and home cleanliness. Over the past two years, numerous families have gone through traumatic experiences, leaving many individuals feeling ashamed or guilty due to their inability to keep up with household chores. At ECO Ellie's, we strive to alleviate these negative emotions by providing a clean and organized living space that offers our customers peace of mind. As recovery from the pandemic gains momentum, we are here to support the process by making your home a comfortable and inviting sanctuary.
We offer many cleaning packages to suit every budget! Everyone deserves a clean space and we are here to help!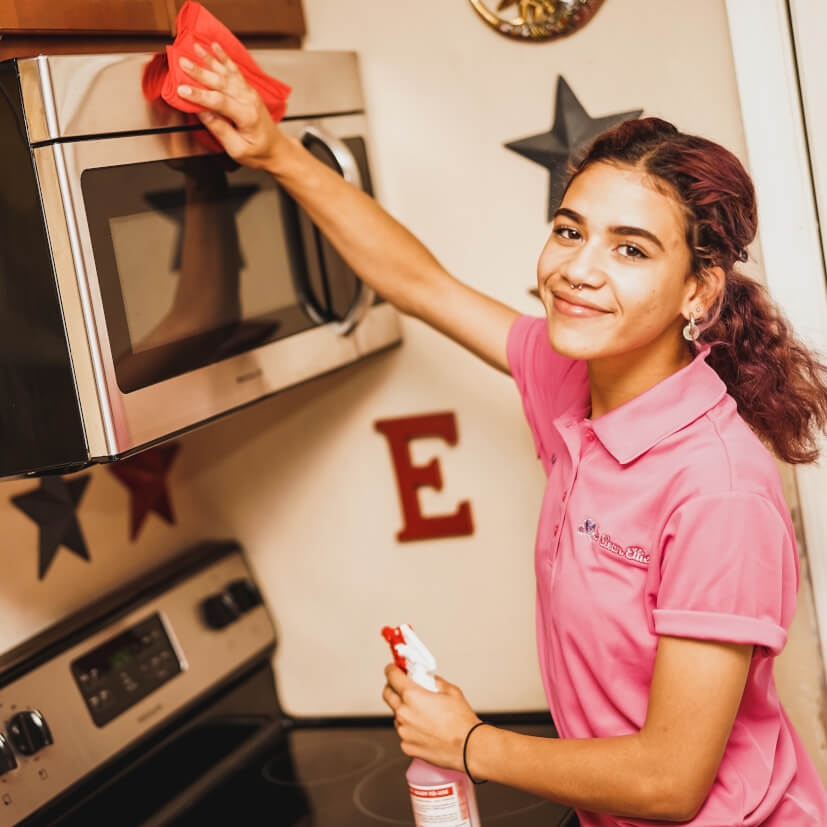 Top-Rated Cleaning Services in Ottawa, KS.
Eco Clean Ellie's is a proud partner of Cleaning for a Reason.
A little backstory about
Ottawa, KS.
Ottawa, located in Franklin County, Kansas, was initially inhabited by Native American tribes and was settled by European abolitionists in 1854. It was named Lawrence, but the name was changed to Ottawa after the Ottawa tribe when it became the county seat. During the mid-19th century, the town became a trade and transportation hub due to its location along the Santa Fe Trail, and it grew rapidly and was incorporated in 1866. Ottawa University was founded in 1871, establishing the town as an educational center. The economy was largely based on agriculture, with crops such as wheat, corn, and soybeans, and it had a thriving business district. During World War II, the Ottawa Army Airfield trained thousands of pilots, and it was later converted into the Ottawa Industrial Park. Today, Ottawa remains an important center of commerce and education, with landmarks such as the historic downtown, Ottawa University, and the Old Depot Museum.
Professional House Cleaners and Organizing Services Proudly Serving Ottawa, KS and the following zip code: 66067.

Things to do and know.
Ottawa was home to one of the largest railroad roundhouses in the world. The roundhouse was built in the late 1800s and was used for repairing and maintaining steam locomotives. Today, the site is part of the Prairie Spirit Trail State Park, which offers hiking, biking, and horseback riding.

Ottawa is home to the oldest operating movie theater in Kansas, the Plaza Cinema. The theater first opened its doors in 1907 and still shows movies to this day.

The Ottawa University has a unique tradition called the "Braves Arrowhead". During homecoming week, a wooden arrowhead is passed down from the graduating class to the incoming class, symbolizing the transfer of leadership and tradition.

Ottawa is located near several state parks, including Pomona Lake, Eisenhower State Park, and Hillsdale Lake. These parks offer a variety of outdoor activities such as camping, fishing, boating, and hiking.

The Old Depot Museum is a popular attraction in Ottawa that features exhibits and artifacts related to the town's history. The museum is housed in a restored 1888 train depot and includes displays on the Santa Fe Trail, local military history, and the town's railroad heritage.
Other places to visit in Ottawa, Kansas include the Ransom Memorial Hospital Historic District, the Franklin County Courthouse, and the Ottawa City Park, which offers playgrounds, picnic areas, and a swimming pool.
Clean Space = Healthy Mind
Contact us today.
For immediate service,
please call us (913) 832-5951
Our office is open
Monday – Friday, 8:00am – 6:00pm
Proudly serving Baldwin City and nearby communities in Northeast Kansas: