Welcome to Eco Clean Ellie's LLC in Perry, KS.
ECO Clean Ellie's is a woman-owned, professional cleaning and organization company. We specialize in decluttering, deep cleaning and getting people where they need to be.
I understand that mental well-being, maintaining a clean living space, and home organization are closely connected. With the past two years being traumatic for numerous families, some individuals may feel ashamed or guilty for not being able to maintain their home's cleanliness. Our objective is to ease these negative emotions by providing a clean and organized environment that brings our clients peace of mind. As pandemic recovery progresses and people's spirits lift, ECO Ellie's is here to assist in the recovery process. Our passion is to transform your home into a cozy haven where you can relax and rejuvenate.
Our team is dedicated to helping you feel comfortable and relaxed in your own home, while also alleviating any negative emotions that may come with clutter and disorganization. Plus, with our eco-friendly products and practices, you can feel good about your impact on the environment. Trust us to transform your home into the ultimate comfort zone.
We offer many cleaning packages to suit every budget! Everyone deserves a clean space and we are here to help!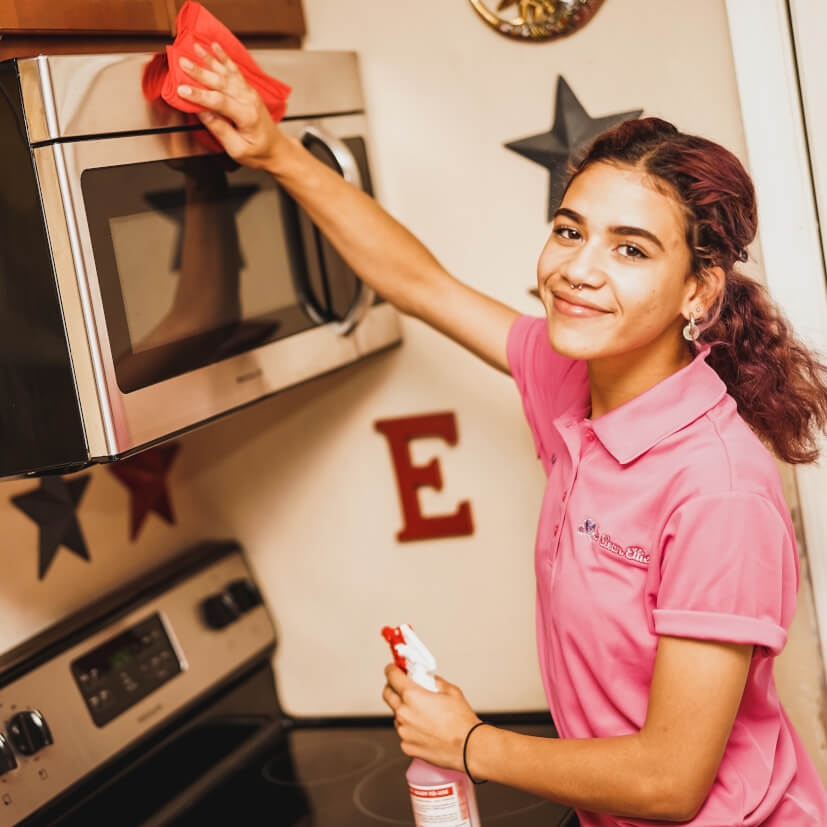 Top-Rated Cleaning Services in Perry, KS.
Eco Clean Ellie's is a proud partner of Cleaning for a Reason.
A little backstory about
Perry, KS.
Perry, a city in Jefferson County, Kansas, has a rich history that dates back to the mid-1800s when Native American tribes, including the Kansa and Osage people, inhabited the area. The city was named after Civil War general Oliver Hazard Perry and was established as a stop along the Oregon Trail and the Santa Fe Trail, attracting pioneers and traders. By the 20th century, Perry had become a center for agriculture and commerce, experiencing economic booms and busts. The town's economy struggled during the Great Depression of the 1930s but received a boost during World War II when it was home to the Sunflower Army Ammunition Plant. Today, Perry is a small yet thriving community with several historic landmarks and attractions, including the Perry Historic District, which showcases 19th-century buildings, and the Perry Lake, which offers recreational activities such as fishing, boating, and camping.
Professional House Cleaners and Organizing Services Proudly Serving Perry, KS and the following zip code: 66073.

Things to do and know.
Perry Lake, located just outside of Perry, is the largest lake in Jefferson County and offers numerous recreational opportunities such as boating, fishing, hiking, and camping.

Perry is home to the "Old Jefferson Town" historic site, which features a collection of 19th-century buildings and artifacts, including a one-room schoolhouse, a blacksmith shop, and a general store.

The Perry State Park, located just south of Perry, offers hiking trails, picnic areas, and a swimming beach, as well as opportunities for hunting and fishing.

The annual Perry Fall Festival is a popular event in the community, featuring a parade, live music, food vendors, and a carnival.

The Perry Lecompton High School has a unique mascot, the "Kaws". The mascot was inspired by the Kanza Native American tribe that once lived in the area.
Other places to visit in Perry, Kansas include the Perry Historical Museum, which features exhibits and artifacts related to the town's history, and the "Perry-Lecompton Freedom's Frontier" National Heritage Area, which offers educational programs and exhibits on the area's role in the abolitionist movement.
Clean Space = Healthy Mind
Contact us today.
For immediate service,
please call us (913) 832-5951
Our office is open
Monday – Friday, 8:00am – 6:00pm
Proudly serving Baldwin City and nearby communities in Northeast Kansas: