Welcome to Eco Clean Ellie's LLC in Baldwin City, KS.
ECO Clean Ellie's is a woman-owned, professional cleaning and organization company. We specialize in decluttering, deep cleaning and getting people where they need to be.
ECO Clean Ellie's Cleaning service in Baldwin City, Kansas is the top choice for all your residential and commercial cleaning needs. Our team of professional cleaners is dedicated to providing exceptional cleaning services that leave your space looking spotless and fresh. We use only the best cleaning products and equipment to ensure a thorough and efficient cleaning every time.
At ECO Clean Ellie's, we understand that your time is valuable, which is why we offer flexible scheduling options that work around your busy schedule. Whether you need a one-time deep cleaning or regular cleaning services, we have a package that's right for you.
Our team is committed to delivering excellent customer service and exceeding your expectations with every clean. We pride ourselves on our attention to detail, and we guarantee that you'll be satisfied with the results.
I know that mental health, personal living space and home cleanliness go hand in hand. The past two years have been so traumatic for so many families, and many people are experiencing feelings of shame or guilt because they haven't been able to keep up with housework. Our goal is to alleviate those negative feelings and creating a clean, organized space that gives our customers peace of mind. Recovery from the pandemic is on the rise and so are spirits. ECO Ellie's is here to help the recovery process. We thrive on making your home a comfort zone.
We offer many cleaning packages to suit every budget! Everyone deserves a clean space and we are here to help!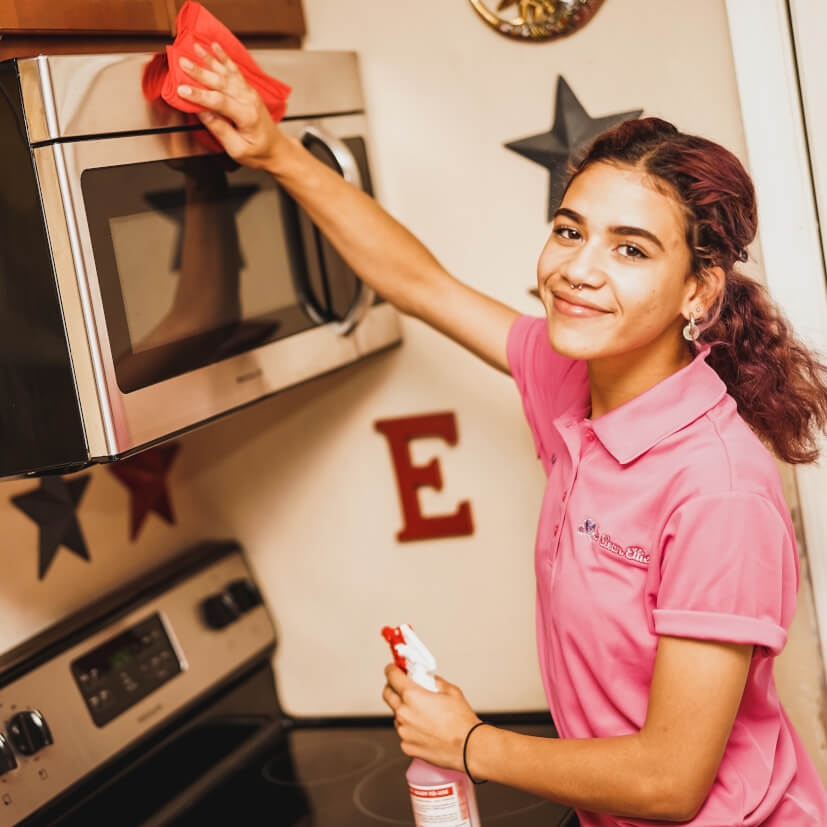 Top-Rated Cleaning Services in Baldwin City, KS.
Eco Clean Ellie's is a proud partner of Cleaning for a Reason.
A little backstory about
Baldwin City, KS.
Baldwin City, Kansas, founded in 1858 by John Baldwin, is a small town located in Douglas County in the eastern part of the state. It played a significant role in the Underground Railroad, serving as an important stop for escaped slaves during the Bleeding Kansas era. The town was also a center of education with the establishment of Baker University in 1858. During the Civil War, Baldwin City was attacked and burned by a group of Confederate soldiers led by William Quantrill, but it was later rebuilt.
In the 20th century, Baldwin City became a hub for agriculture, producing wheat, corn, and other crops. Today, it is home to a vibrant community of residents and businesses. Baldwin City is famous for its annual Maple Leaf Festival, which draws thousands of visitors to celebrate the arrival of autumn and features a parade, arts and crafts vendors, live music, and other activities.
Professional House Cleaners and Organizing Services Proudly Serving Baldwin City, KS and the following zip code: 66006
Things to do and know.
Baker University: Established in 1858, Baker University is the oldest university in the state of Kansas. The campus is home to several historic buildings, including Parmenter Hall, which is on the National Register of Historic Places.

Santa Fe Trail: The Santa Fe Trail, a historic trade route between Missouri and Santa Fe, New Mexico, passed through Baldwin City. Visitors can explore the trail and learn about its significance at the Black Jack Battlefield and Nature Park.

Maple Leaf Festival: As mentioned earlier, the Maple Leaf Festival is a popular annual event in Baldwin City. Visitors can enjoy live music, food vendors, and a variety of arts and crafts.

Baldwin City Train Depot: The Baldwin City Train Depot is a historic building that served as a stop on the Santa Fe Railway. Today, it houses a museum that showcases the history of the railway and its impact on the town.

Vinland Valley Nursery: The Vinland Valley Nursery is a family-owned business that specializes in plants native to the Midwest. Visitors can stroll through the gardens and purchase plants and other items from the nursery's gift shop.
Clean Space = Healthy Mind
Contact us today.
For immediate service,
please call us (913) 832-5951
Our office is open
Monday – Friday, 8:00am – 6:00pm
Proudly serving Baldwin City and nearby communities in Northeast Kansas: