Welcome to Eco Clean Ellie's LLC in De Soto, KS.
ECO Clean Ellie's is a woman-owned, professional cleaning and organization company. We specialize in decluttering, deep cleaning and getting people where they need to be.
I am aware that mental wellbeing, the condition of one's living environment, and the level of cleanliness in one's home are closely linked. In the past couple of years, numerous families have been through traumatic experiences, and as a result, many people feel ashamed or guilty for not being able to maintain a tidy home. Our aim is to relieve those negative emotions and provide our customers with a clean and organized space that brings them peace of mind. As we see a rise in recovery from the pandemic and an increase in optimism, ECO Ellie's is available to assist in the process. We take pride in transforming your home into a sanctuary of comfort.
With our eco-friendly and effective cleaning methods, you can trust us to create a healthy and fresh environment for you and your loved ones. Let ECO Ellie's help you achieve a clean and clutter-free home that promotes relaxation and enhances your overall wellbeing. Book our services today and experience the difference!
We offer many cleaning packages to suit every budget! Everyone deserves a clean space and we are here to help!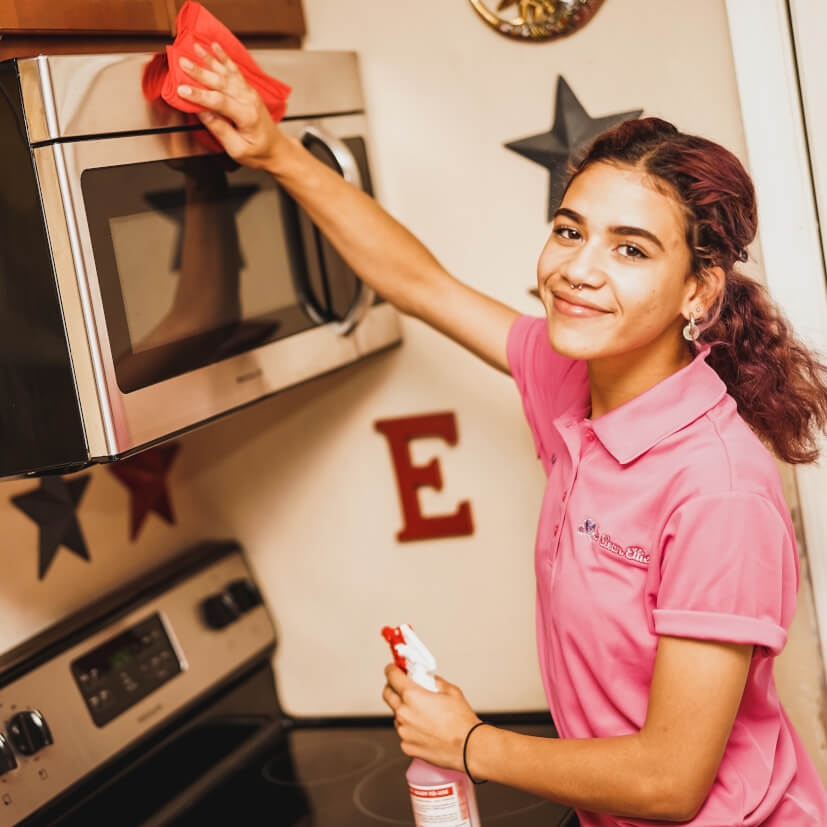 Top-Rated Cleaning Services in De Soto, KS.
Eco Clean Ellie's is a proud partner of Cleaning for a Reason.
A little backstory about
De Soto, KS.
De Soto, located in Johnson County, Kansas, was founded in 1857 by Free-State advocates and named after Spanish explorer Hernando de Soto. Originally inhabited by Native American tribes, the town grew in the late 19th and early 20th centuries as a center of agriculture and transportation due to its location on the Santa Fe Trail and train depot. During the mid-20th century, De Soto's economy shifted to manufacturing, with companies such as Sunflower Army Ammunition Plant becoming major employers. Today, De Soto has a population of around 6,500 and is home to various businesses, including retail stores, restaurants, and manufacturing facilities. The town hosts community events, including the De Soto Days Festival, to celebrate its history and heritage.
Professional House Cleaners and Organizing Services Proudly Serving De Soto, KS and the following zip codes: 66018, 66019, 66025.

Things to do and know.
Riverfest Park: This park features a playground, picnic areas, and a fishing pond. The park is also the site of the annual De Soto Days Festival, which includes a parade, live music, food vendors, and other activities.

De Soto Aquatic Center: This community pool features a variety of water features, including a lazy river, a water slide, and a diving board. The pool also offers swimming lessons and other programs.

Sunflower Army Ammunition Plant: Although the plant is no longer in operation, visitors can tour the grounds and learn about its history and role in World War II and the Cold War. The plant was once the largest manufacturer of ammunition in the world.

De Soto National Wildlife Refuge: This refuge is located just north of De Soto and is home to a variety of wildlife, including migratory birds and white-tailed deer. The refuge features hiking trails and a visitor center.

Kill Creek Park: This park is located just south of De Soto and features hiking trails, fishing ponds, and a lake for boating and kayaking. The park also has a campground for overnight stays.
Clean Space = Healthy Mind
Contact us today.
For immediate service,
please call us (913) 832-5951
Our office is open
Monday – Friday, 8:00am – 6:00pm
Proudly serving Baldwin City and nearby communities in Northeast Kansas: