Welcome to Eco Clean Ellie's LLC in Bonner Springs, KS.
ECO Clean Ellie's is a woman-owned, professional cleaning and organization company. We specialize in decluttering, deep cleaning and getting people where they need to be.
I understand the correlation between mental health, personal living space, and home cleanliness. The past two years have been difficult for many families, leading some to feel ashamed or guilty about their inability to keep up with housework. Our aim is to relieve these negative emotions and provide our clients with a clean, well-organized environment that promotes peace of mind. As the pandemic recovery gains momentum and people's spirits improve, ECO Ellie's is ready to assist in the process. We take pride in transforming your home into a place of comfort and relaxation.
Our experienced team is dedicated to providing top-notch services that meet your specific needs and exceed your expectations. With our eco-friendly cleaning products and personalized organization solutions, we can transform your home into a comfortable and inviting space that you can be proud of. Don't let a cluttered or messy home cause you stress or anxiety. Contact us today to schedule your next cleaning and organization service with ECO Ellie's!
We offer many cleaning packages to suit every budget! Everyone deserves a clean space and we are here to help!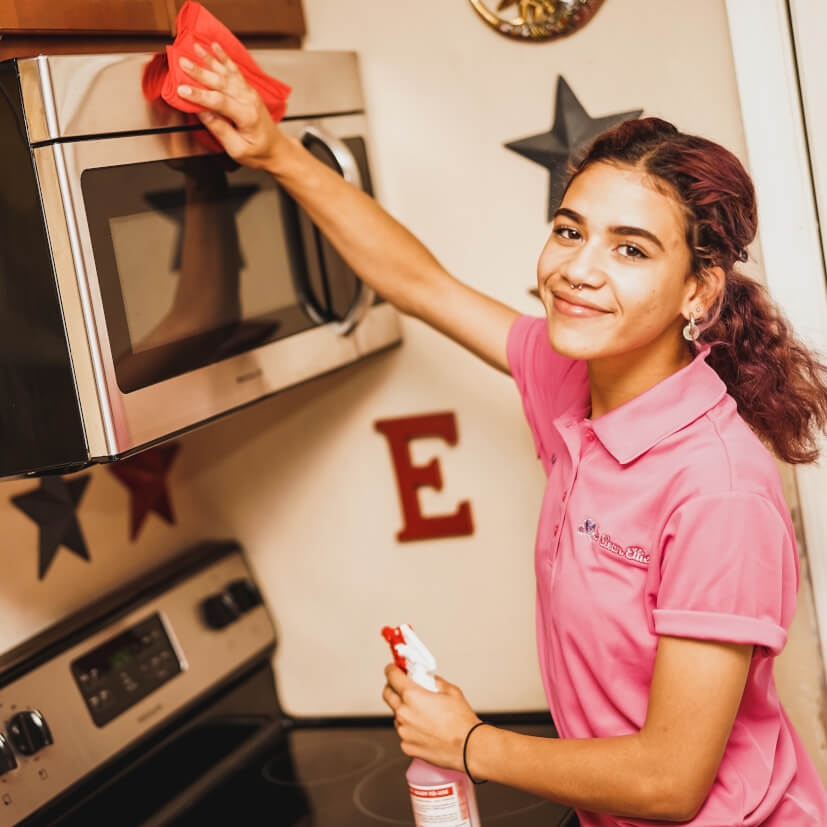 Top-Rated Cleaning Services in Bonner Springs, KS.
Eco Clean Ellie's is a proud partner of Cleaning for a Reason.
A little backstory about
Bonner Springs, KS.
Bonner Springs, located in northeast Kansas, was first settled in the 1820s by fur traders and later became a stopping point for travelers on the Santa Fe Trail. In 1868, the town was officially founded on land owned by a Wyandot Indian named Henry Tiblow, and it was named after his daughter, Annie Bonner. Bonner Springs became a center of agriculture, commerce, and transportation, with several mills and a railway depot that helped the town become an important shipping point for livestock and agricultural products.
Today, Bonner Springs has a population of around 7,500 and is home to a variety of businesses, including retail stores, restaurants, and manufacturing facilities. The city also hosts several events throughout the year, including the Tiblow Days festival, which celebrates the town's history and heritage. Bonner Springs is also known for its amusement park, Worlds of Fun/Oceans of Fun, which features a variety of rides, attractions, and entertainment and was established in 1973.
Professional House Cleaners and Organizing Services Proudly Serving Bonner Springs, KS and the following zip code: 66012, 66111, 66226.

Things to do and know.
National Agricultural Center and Hall of Fame: This museum showcases the history of agriculture in America and honors those who have made significant contributions to the industry. The museum features exhibits, artifacts, and interactive displays.

Moon Marble Company: This unique store and attraction offers handmade marbles, games, and toys. Visitors can watch live marble-making demonstrations and purchase marbles and other items from the store.

Cricket Wireless Amphitheater: This outdoor music venue hosts concerts and other events throughout the year. The amphitheater has a seating capacity of 18,000 and has hosted performances by popular artists such as Bruno Mars, Taylor Swift, and Aerosmith.

Tiblow Days: This annual festival celebrates the history and heritage of Bonner Springs. The festival features a parade, live music, food vendors, a carnival, and other activities.

Wyandotte County Lake: This large lake is located just north of Bonner Springs and offers fishing, boating, hiking, and other outdoor recreational activities. The lake also has a beach area for swimming and sunbathing.
Clean Space = Healthy Mind
Contact us today.
For immediate service,
please call us (913) 832-5951
Our office is open
Monday – Friday, 8:00am – 6:00pm
Proudly serving Baldwin City and nearby communities in Northeast Kansas: